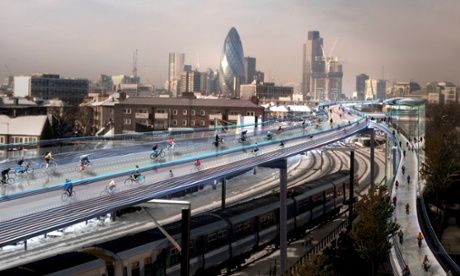 Laura
OLPH
sent me the link to
an article about a proposal for elevated cycling routes in London, to alleviate motor traffic
.
The project, which has the backing of Network Rail and Transport for London, would see over 220km of car-free routes installed above London's suburban rail network, suspended on pylons above the tracks and accessed at over 200 entrance points. At up to 15 metres wide, each of the ten routes would accommodate 12,000 cyclists per hour and improve journey times by up to 29 minutes, according to the designers...
"The dream is that you could wake up in Paris and cycle to the Gare du Nord," says Sam Martin of Exterior Architecture. "Then get the train to Stratford, and cycle straight into central London in minutes, without worrying about trucks and buses."
However...
Funding remains the big question hanging over SkyCycle, with the designers currently looking for backing to fund a feasibility study. "We certainly don't want to take money away from making cycling safe on the roads," says Martin. "That should remain the priority. But our ambition is to redirect some of the money spent by central government on rail and road expenditure. Those billions can be used much more efficiently."
I think it's a great idea. I'd love to see it. But I doubt it will happen there... and even if it does, I'm sure it will never happen here in Baja Canada.